Maurice Sendak's Where the Wild Things Are
Translated into Latin by Richard A. LaFleur (aka, Doctor Illa Flora)
Mauritio Sendacio, Magistro Fabularum et Picturarum
–For Maurice Sendak, Master of Stories and Pictures–

WHY (NOT) A LATIN WILD THINGS?
When Maurice Sendak's Where the Wild Things Are was first published in 1963, it became a classic almost overnight, selling more than 20 million copies to date and inspiring the creation of a host of offspring, including children's toys, dolls, and puppets, board and video games, a 1980s children's opera, co-scripted by Sendak himself, as well as other musical compositions, and the much praised 2009 feature film adaptation, directed by Spike Jonze. The book has earned countless recognitions, including the 1964 Randolph Caldecott Medal for "the most distinguished American picture book for children," and in 2015, a half century later, was ranked first in TIME magazine's list of the top 10 children's books for ages 3-11 (though truly the book's appeal extends all the way to senior citizens!). It has been translated into numerous other languages, including French, German, Spanish, Hebrew, and even Finnish, but never until now into classical Latin.
In an oft related anecdote, Sendak, who passed away May 8, 2012, at age 83, once wrote of a young admirer: "A little boy sent me a charming card with a little drawing on it. I loved it. I answer all my children's letters–sometimes very hastily–but this one I lingered over. I sent him a card and I drew a picture of a Wild Thing on it. I wrote, 'Dear Jim: I loved your card.' Then I got a letter back from his mother and she said: 'Jim loved your card so much he ate it.' That to me was one of the highest compliments I've ever received. He didn't care that it was an original Maurice Sendak drawing or anything. He saw it, he loved it, he ate it." With a passion akin to that young fan's, I must confess: libellum vidi, amavi, transtuli, "I saw the little book, I loved it, I translated it." I hope that Mr. Sendak would have considered this modest Latin rendering of his perpetually charming classic to be also a "high compliment," as it is most certainly intended, and also that lovers of what I affectionately dub "The Mother Tongue" will cherish this volume just as so many readers have enjoyed the Latin versions of such other children's classics as Winnie Ille Pu (Winnie the Pooh), Cattus Petasatus (The Cat in the Hat), and Alicia in Terra Mirabili (Alice in Wonderland).
R. A. LaFleur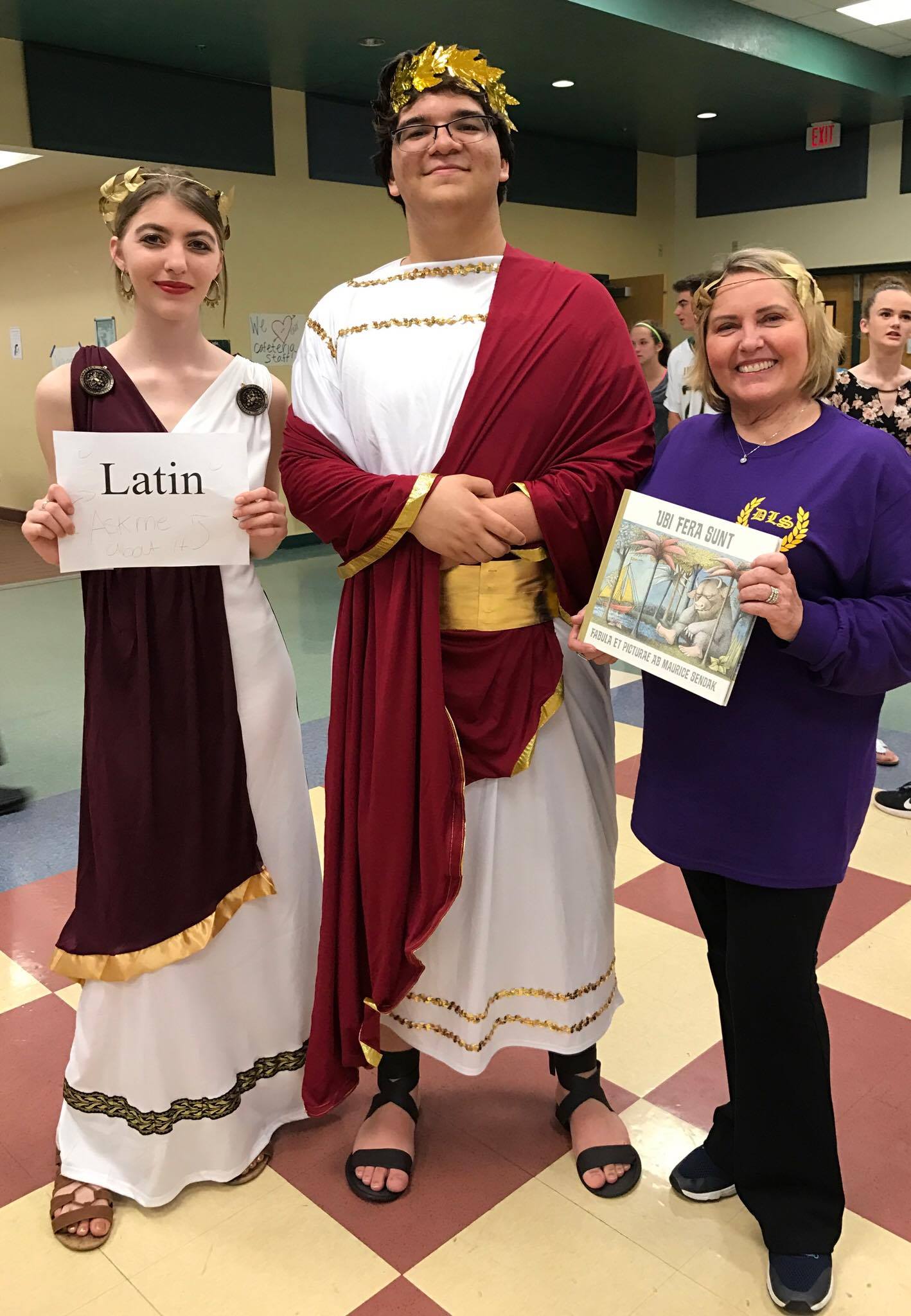 Magistra Cynthia Mancini with students Grace Avvenire and Philip Andersen, enjoying UBI FERA SUNT at the World Languages Fair at Jupiter High School in Jupiter, FL.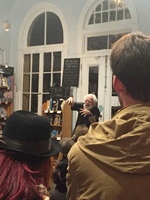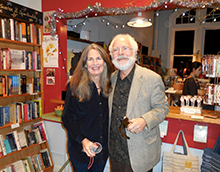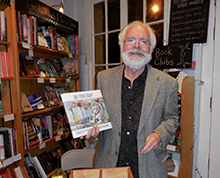 Author Rick LaFleur, and wife Alice Tipton LaFleur, at book launch and reading, AVID BOOK SHOP, Athens GA, 12-16-15
Rick LaFleur and Avid Books celebrate the release of Ubi Fera Sunt. See the Flagpole Magazine story HERE!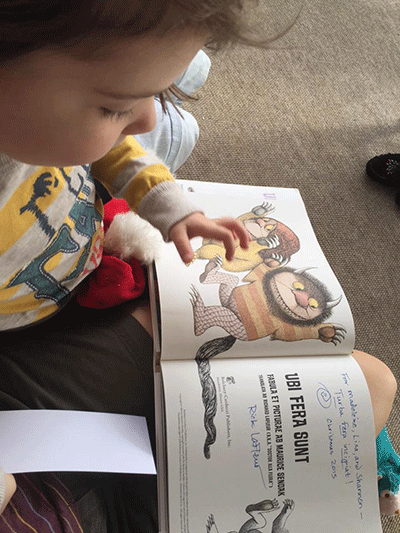 3-year-old Madeleine enjoying UBI FERA SUNT and joyfully awaiting the TURBA (RUMPUS)!!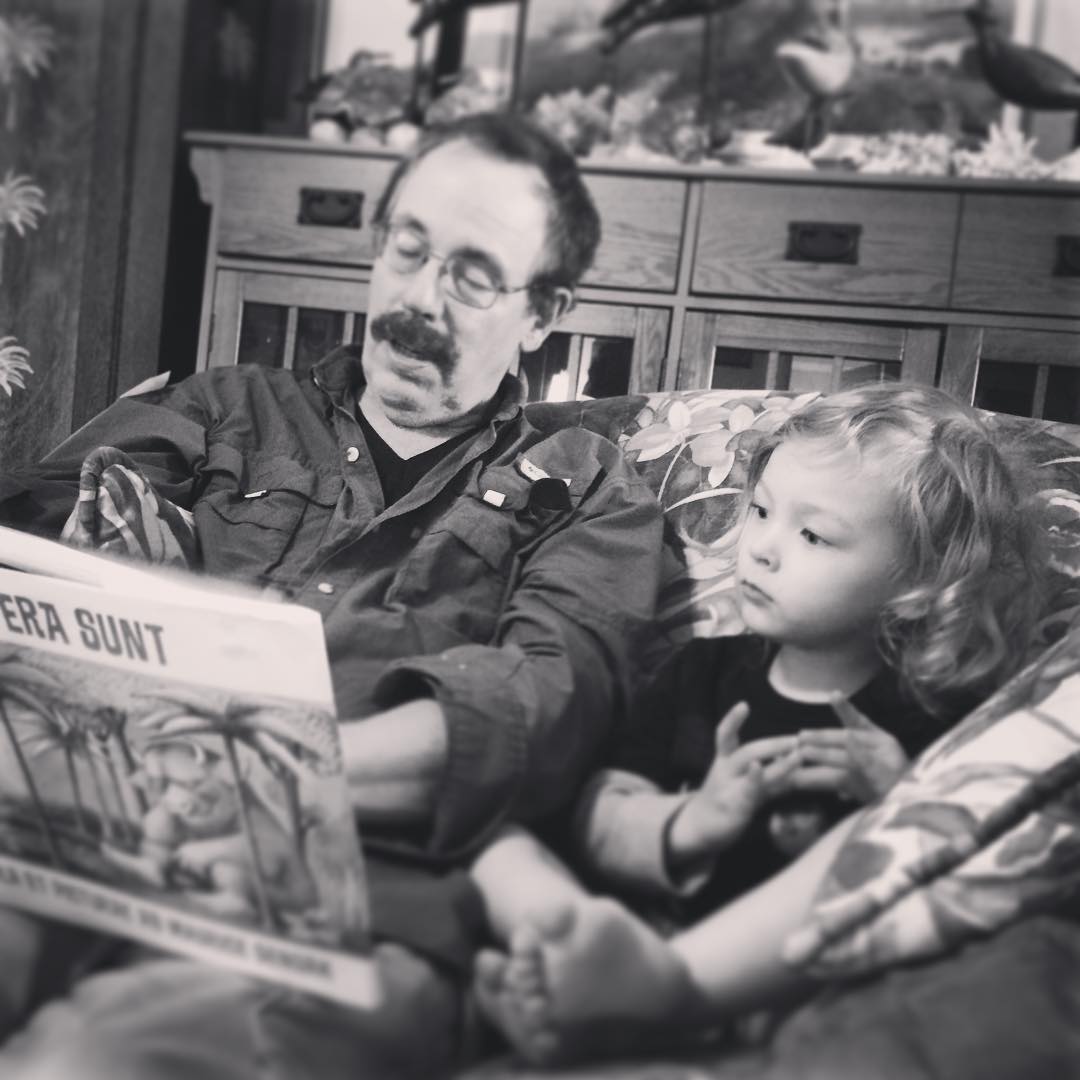 Retired professor and writer James Hargrove reading UBI FERA SUNT to his grandson Wilde, who kept insisting, "Read it again, Grandpa!"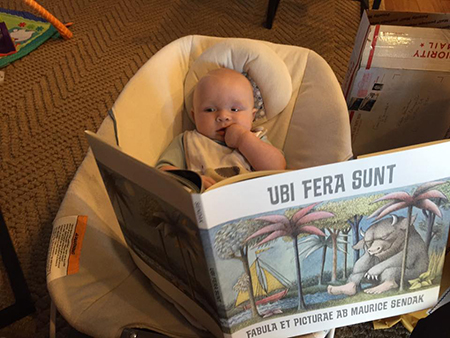 5-month-old Brooks getting a head-start on his Latin studies, thanks to his great aunt Linda!



NEWLY PUBLISHED!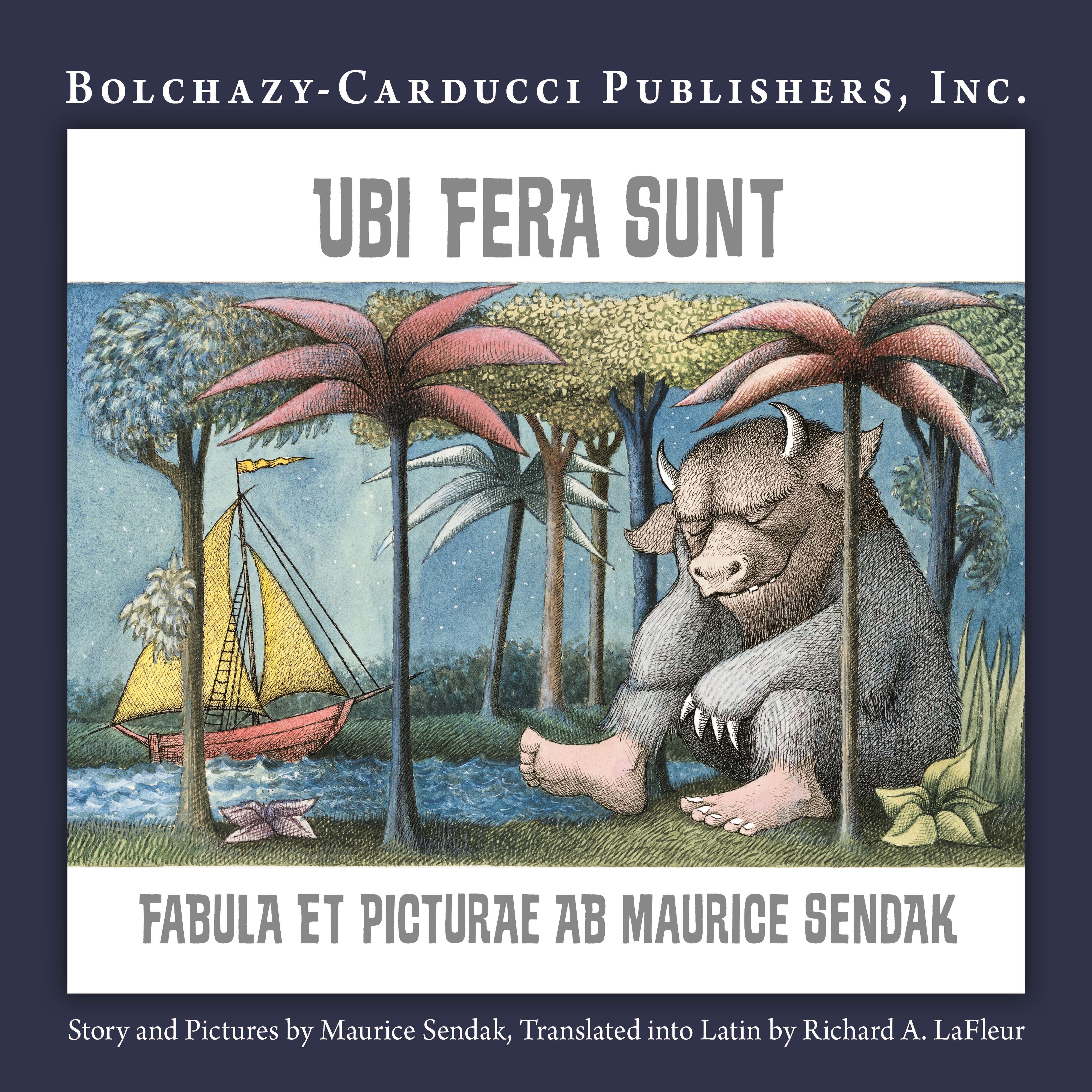 A lively, lovingly wrought Latin version of Maurice Sendak's classic children's book, WHERE THE WILD THINGS ARE, translated by noted Latinist Richard A. LaFleur (aka, Doctor Illa Flora).
Wheelock's Latin Grammar Charts

Ecclesiastical, Medieval, and Neo-Latin Sentences
By Richard Upsher Smith, Jr.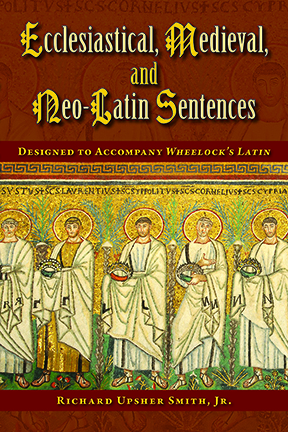 Ecclesiastical, Medieval, and Neo-Latin Sentences offers Sententiae and Loci Immutati complete with notes, vocabulary, and grammar explanations for the 40 chapters of Wheelock's Latin.
Find Them
By Sally Proctor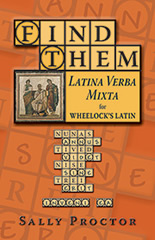 VERBA MIXTA LATINA for Wheelock's Latin is an entertaining way for students to engage with Latin vocabuary. These puzzles can be enjoyed by and benefit Latin students at any level!
Grammaticus
Grammaticus is the premiere study aid for Wheelock's Latin, 7th Edition, for Android devices. Principium is the version for iPhone.

Scribblers, Scvlptors, and Scribes
By Richard A. LaFleur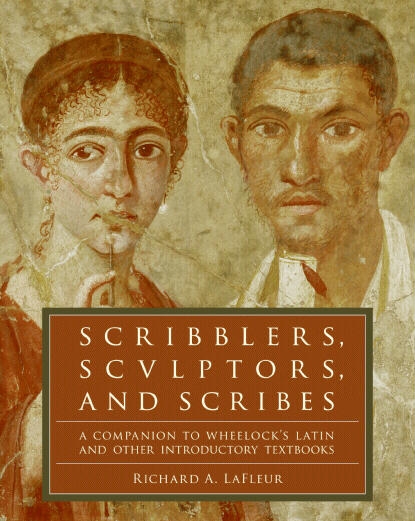 This all new supplementary reader is designed to accompany the Wheelock's curriculum, but is also suitable for any Latin program.
ONLINE STUDY GROUP for SCRIBBLERS:
contact Sally Winchester at bcuthill@us.net 
Wheelock's Latin GrammarQuick!

By Richard A. LaFleur, Brad Tillery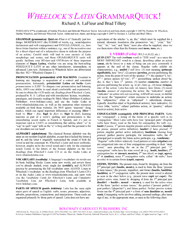 A quick and complete overview of Latin grammar—both forms and usage—on six durably coated cards, five-hole punched for easy insertion into notebooks. Arranged by part of speech, with summaries of all forms and the most common syntax, including case uses and subjunctive clauses. An essential companion to Wheelock's Latin and all introductory texts, and a handy reference guide for intermediate and more advanced students as well.
**Cumulative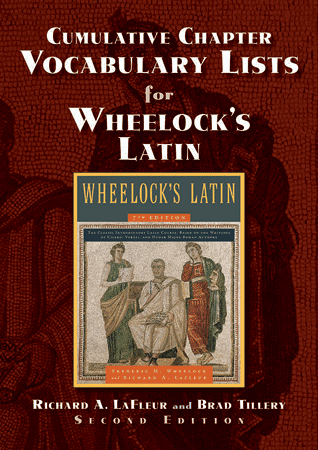 Chapter Vocabulary Lists for Wheelock's Latin--the list for each chapter contains all the words for that chapter as well as for all chapters preceding! from Bolchazy-Carducci.
**

Readings from Wheelock's Latin -- an extraordinary 4-CD audio package with recitations and dramatic performances available from Bolchazy-Carducci.
NOW AVAILABLE:
Online audio with a general introduction and pronunciation of all 40 chapter vocabularies (Macromedia Flash required). Simply click on the Audio Link in the menu above or go here.
The Wheelock's Latin Series isn't complete without:

Wheelock's Latin Reader
Originally intended as a sequel to Wheelock's Latin, this is the ideal text for any intermediate-level Latin course. Read not only classical authors but also medieval and late Latin writers.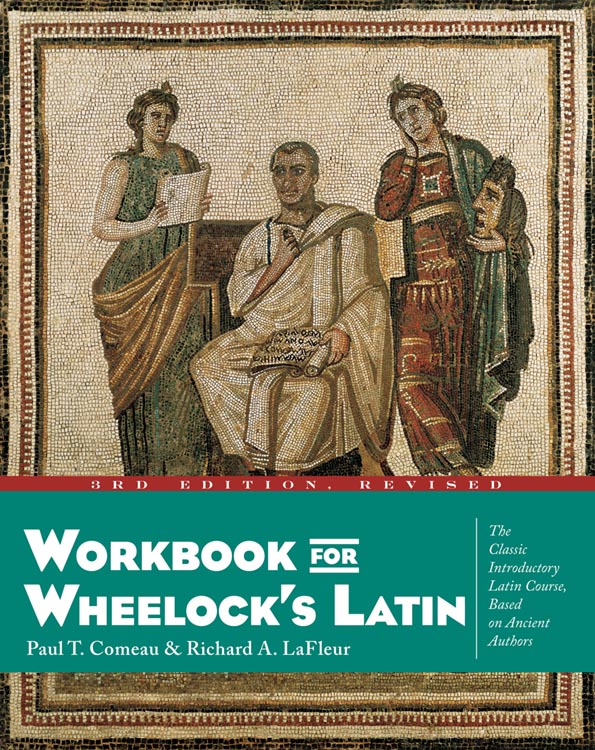 Workbook for Wheelock's Latin
You will find in this essential companion to Wheelock's Latin transformation drills, word power sections, reading comprehension questions and more.
Need a dictionary?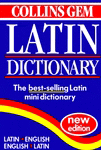 Collins Gem Latin Dictionary
This best-selling Latin mini-dictionary comes with a verbs and nouns supplement; numbers, dates and measures; plus an index of geographical names.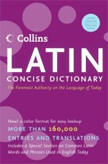 Harper Collins Latin Concise Dictionary
This is a Latin dictionary and grammar—two books in one. It also has supplements on Roman history, life and culture; words and phrases used in English; and more.
Did you know... if you refresh your page you get a new quote from either Amo, Amas, Amat and More or Veni, Vidi, Vici?
Don't want to study alone? Consider joining an online study group!